Organic Rosehip Powder 200g
Whole-Fruit including Shell and Seed
10% to 25% Off RRP + Free UK Delivery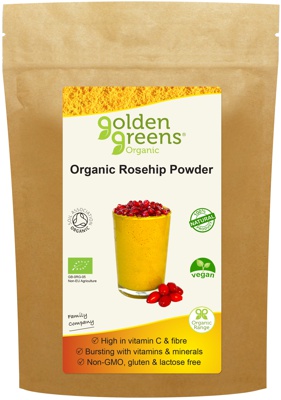 In Stock
Fast & Free UK Delivery
Whole-Fruit
Includes Shell
Includes Seed
200g
Foil-Lined
Re-sealable
Vitamin C
Ellagic Acid
Quercitin
Antioxidant
Anti-Ageing
Skin
Osteoarthritis
Vegetarian
Vegan
Organic
Buy Golden Greens Organic Rosehip Powder
Free UK Delivery
on all orders
RRP: £10.49
Qty
Unit
Price
Total
Price
Buy
1 x 200g
£9.44


(10% Off)

£9.44
1
2 x 200g
£9.18


(12.5% Off)

£18.36
2
3 x 200g
£8.92


(15% Off)

£26.76
3
4 x 200g
£8.39


(20% Off)

£33.56
4
5 x 200g
£7.87


(25% Off)

£39.35
5
Mix and Match Powders
Golden Greens Organic Rosehip powder is made from the seed-filled fruits of the rose, found beneath rose petals, known as rose hips. They are packed with health-giving nutrients.
Rosehips contain high levels of multiple antioxidants, including vitamin C, ellagic acid and quercitin. They derive their orangey-red colour from the carotenoids beta-carotene and lycopene which promote healthy eyes and healthy skin.
Rosehip has also been researched for its anti-ageing properties for your skin. Its vitamin C content promotes an increase the rate at which your skin cells are replaced and enhances the process of collagen synthesis, helping to improve moisture retention and skin elasticity, thereby reducing the appearance of wrinkles.
Further promising research has investigated rosehip for reducing osteoarthritis pain and inflammation, helping to lose weight, reducing blood pressure and cholesterol levels and promoting heart health.
Simply mix with water, juice or add to a smoothie. Our rosehip is certified organic by the Soil Association, this is your guarantee of purity and quality. Our powder is presented in a foil-lined and re-sealable packet to ensure freshness is maintained until the very last serving.
Our discount increases from 10% off RRP for a single packet, to 25% off RRP for 5 packets. You can Mix and Match Golden Greens powders to maximise your discount.
Key Nutrient:
Organic Rosehip
Form:
Powder
Quantity:
200g
Recommended Use:
2g to 5g (half to a full teaspoon) per day
(Mix with water, juice or add to a smoothie)
Best Before Date:
End of November 2022
Other Ingredients:
None
Features:
Whole-Fruit (includes seed and shell)
100% Pure
Certified Organic
Foiled-lined Packet
Re-sealable packet
TrustPilot collects reviews from our customers and gives us a rating out of 5. You can click below to view our TrustPilot reviews.
Suggested Smoothie Recipe
For a Rosehip Smoothie blend together the following ingredients:
one teaspoon (5g) of organic rosehip powder
three-quarters of a cup of soy or almond milk
one banana, peeled
one small apple, chopped and cored
100g of Organic Rosehip powder typically provides:
Energy - 389 kCal
Protein - 7g
Fat - 2.6g
of which saturates - 0.4g
Carbohydrates - 42g
of which sugars - 12.5g
Fibre - 34g
Salt - 0.1g