Flexwize for People
Liquid Glucosamine HCl and Sulphate
for Painful, Injured and Arthritic Joints
Glucosamine, Chondroitin, MSM, Yucca Extract, Manganese
Bromelain, Omega-3, Omega-6, Vitamins A, C and E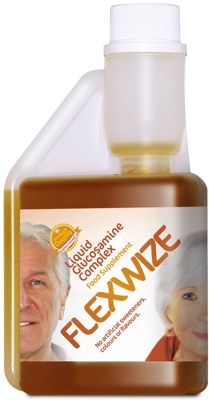 In Stock
Free UK Delivery
Flexwize for People
275ml
36 Daily Servings
Glucosamine HCl and Sulphate
Chondroitin
MSM
Yucca Extract
Manganese
Bromelain
Omega-3
Omega-6
Vitamins A, C and E
Injured Joints
Painful Joints
Arthritic Joints
Purchase
Flexwize for People (275ml)


Prices Include Free UK Delivery

Qty
Unit
Price
Total
Price
Buy
1 bottle
£15.95
£15.95
2 bottles
£14.95
each
£29.90
3 bottles
£13.30
each
£39.90
4 bottles
£12.95
each
£51.80
5 bottles
£12.75
each
£63.75
RRP: £17.95
Free Royal Mail 48 UK Delivery
UK Delivery Only
Treasure Your Health Flexwize for people is a liquid glucosamine complex containing 12 active ingredients for painful, injured and arthritic joints. Each 275ml bottle provides 36 daily servings.
Our most important ingredient is 1,500mg of pharmaceutical quality glucosamine salts per 7.5ml daily serving. This is equally split between glucosamine hydrochloride (HCL) and glucosamine sulphate. Our 1,500mg of glucosamine salts provides 1,067mg of base glucosamine per serving.
Our liquid glucosamine complex provides 10 further active ingredients for maintaining healthy pain-free joints: Chondroitin, MSM, Yucca Extract, Manganese, Bromelain, Omega-3, Omega-6, Vitamin A, Vitamin C and Vitamin E.
Compared to glucosamine tablets, liquid glucosamine provides a higher absorption rate and higher bio-availability.
Incorporated into each bottle is a graduated measuring reservoir to enable you to quickly and easily measure out the 7.5ml daily dose.
Each UK order includes free delivery by Royal Mail 48 (2-3 working days), plus, if you a running short of your current Flexwize we offer a free upgrade to Royal Mail 24 (1-2 working days) on request - just email us here.
Shake the bottle after taking it out of the fridge. Then remove the cap from the top of the bottle. Holding the bottle upright, squeeze the bottle until the Flexwize liquid moves around the pipe (around the outside of the bottle) and into the measuring reservoir at the top of the bottle. Fill the reservoir to 7.5ml (half way between the 5ml and 10ml markings). Then poor the Flexwize from the reservoir onto a spoon and consume.
7.5ml is approximately one and a half teaspoons.
Split the dose in two and take with food if you notice any stomach irritation.
Keep out of the reach of children.
This is a food supplement and should not be used as a substitute for a varied diet.
Do not exceed the stated intake.
Allergens: Crustaceans, Fish Oil
The following table shows the amount of each active ingredient in a daily 7.5ml serving of Flexwize.
Ingredient
Amount
Total Glucosamine (HCl and 2KCl)
(providing base glucosamine)
1,500 mg
(1,067mg)
Glucosamine Hydrochloride (HCl)
(providing base glucosamine)
750 mg
(623mg)
Glucosamine Sulphate (2KCl)
(providing base glucosamine)
750 mg
(444mg)
Chondroitin Sulphate
50 mg
MSM
50 mg
Yucca Extract (4:1)
5 mg
Manganese
5 mg
Bromelain Enzyme Complex
60 units (gdu)
Omega-3
8 mg
Omega-6
2 mg
Vitamin A
800 iu / 240 mcg
Vitamin C
36.8 mg
Vitamin E
3 iu / 2 mg ATE
Q. Glucosamine Liquid or Glucosamine Tablets ?
A. The absorption rate and bio-availability of glucosamine is far higher in liquid form than in tablet form.
Q. How Long Before I Feel The Benefit from Flexwize ?
A. You should feel the benefits from taking liquid glucosamine in the first 2 - 4 weeks. As each bottle of Flexwize provides 36 days supply you should notice benefit before you complete your first bottle.
Q. Can I Split the Daily Amount of Flexwize ?
A. You can split the dose into two daily servings of 3.75ml if you prefer. In the unlikely event that you get mild stomach irritation then we recommend you split the dose in two and take each 3.75ml serving with food.
Q. What is the difference between Glucosamine Salts and Glucosamine Base ?
A. Glucosamine is naturally found as a salt. Both Glucosamine Hydrochloride and Glucosamine Sulphate are glucosamine salts. Flexwize contains 750mg of each of these two glucosamine salts.
The glucosamine base amount specifies how much actual glucosamine is within the salt. Flexwize provides 623mg of glucosamine from the 750mg of Glucosamine Hydrochloride, and provides 444mg of glucosamine from the 750mg of Glucosamine Sulphate. This gives a total glucosamine base of 1,067mg from the 1,500mg of total glucosamine salts in each daily serving of Flexwize.