Golden Greens Organic Barley Grass Powder - 200g
100% Pure Barley Grass, Certified Organic
Discounts Up To 25% + Free UK Delivery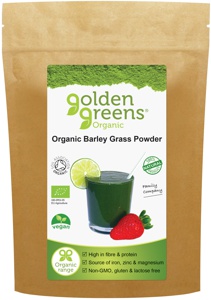 In Stock
Free UK Delivery
Suitable for Vegetarians and Vegans
Buy Organic Barley Grass powder (UK Delivery)
1 packet


1 x 200g

for
£14.71


5% Discount

2 packets


2 x 200g

for
£27.88
10% Discount
(£13.94 each)
3 packets


3 x 200g

for
£39.51
15% Discount
(£13.17 each)
4 packets


4 x 200g

for
£49.56
20% Discount
(£12.39 each)
5 packets


5 x 200g

for
£58.10
25% Discount
(£11.62 each)
Buy Organic Barley Grass powder (EU Delivery)
5 packets


5 x 200g

for
£69.95
10% Discount
(£13.99 each)
200g of 100% Pure Organic Barley Grass powder.

Recommended Daily Serving: 5g - 15g (1 to 3 teaspoons) per day.
Mix with water, juice or as a delicious smoothie.
Made from hand cut tender young barley grass shoots that are brimming with nutrition.

Certified organic by the UK Soil Association, your guarantee of quality.

Save up to 25% on the RRP of £15.49.


- 1 packet : 5% discount
- 2 packets: 10% discount
- 3 packets: 15% discount
- 4 packets: 20% discount
- 5 packets: 25% discount
plus Free UK Delivery on ALL orders
You can Mix and Match Golden Greens powders to qualify for the full 25% discount.
plus...
30-day no-quibble refund guarantee.
Suggested Smoothie Recipe
To make Organic Barley Grass Fruit Smoothie blend together the following ingredients:
Half a cup of orange or apple juice
Half a cup of coconut water (or water)
Quarter of a cup of frozen blueberries
1 ripe banana, peeled
2 teaspoons of Organic Barley Grass powder
TrustPilot collects reviews from our customers and gives us a rating out of 5. You can click below to view our TrustPilot reviews.