Golden Greens Organic Kale Powder - 200g
100% Pure Kale, Certified Organic
Discounts Up To 25% + Free UK Delivery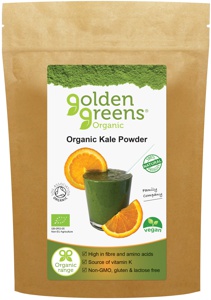 In Stock
Free UK Delivery
Suitable for Vegetarians and Vegans
Buy Organic Kale powder (UK Delivery)
1 packet


1 x 200g

for
£9.01


5% Discount

2 packets


2 x 200g

for
£17.08
10% Discount
(£8.54 each)
3 packets


3 x 200g

for
£24.21
15% Discount
(£8.07 each)
4 packets


4 x 200g

for
£30.36
20% Discount
(£7.59 each)
5 packets


5 x 200g

for
£35.60
25% Discount
(£7.12 each)
Buy Organic Kale powder (EU Delivery)
5 packets


5 x 200g

for
£45.95
3% Discount
(£9.19 each)
200g of 100% Pure Organic Kale powder.

Recommended Daily Serving: 5g - 15g (1 to 3 teaspoons) per day.
Mix with water, juice or as a delicious smoothie.

Certified organic by the UK Soil Association, your guarantee of quality.

Boiling kale loses large amounts of nutrients into the water.
Using powdered raw kale has the great benefit of retaining all these nutrients.
Kale is a rich source of the following nutrients:
- Vitamin A
- Vitamin B6
- Vitamin C
- Vitamin E
- Vitamin K
- Folate
- Manganese
- Thiamin
- Riboflavin
- Pantothenic acid
- Iron
- Calcium
- Potassium
- Phosphorus.
Kale is also a source of the carotenoids, lutein and zeaxanthin helping support eye health.

Save up to 25% on the RRP of £9.49.


- 1 packet : 5% discount
- 2 packets: 10% discount
- 3 packets: 15% discount
- 4 packets: 20% discount
- 5 packets: 25% discount
plus Free UK Delivery on ALL orders
You can Mix and Match Golden Greens powders to qualify for the full 25% discount.
plus...
30-day no-quibble refund guarantee.
Suggested Smoothie Recipe
To make a delicious kale and apple smoothie blend together the following ingredients:
Half a ripe banana, peeled.
One stick of celery.
One cored apple.
2 teaspoons of organic kale powder.
1 tablespoon of lemon juice.
Half a cup of water.
TrustPilot collects reviews from our customers and gives us a rating out of 5. You can click below to view our TrustPilot reviews.