Noni Whole-Fruit Extract
60 x 5000mg Capsules
Rich in Proxeroxine and Scopoletin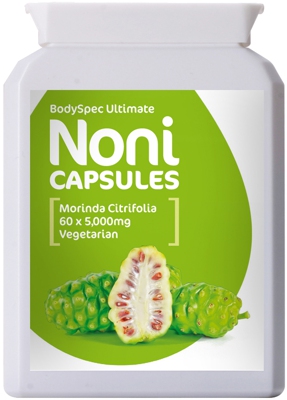 In Stock
Fast & Free UK Delivery
5,000mg
60 Capsules
Whole-Fruit
Proxeroxine
Scopoletin
Arthritis
Tonic and Detox
Immune Health
Vegan
Vegetarian
Buy Noni Extract Capsules
Free UK Delivery
on all orders
Qty
Unit
Price
Total
Price
Buy
1 tub


(60 capsules)

£6.95
£6.95
2 tubs


(120 capsules)

£6.45


each

£12.90
3 tubs


(180 capsules)

£5.95


each

£17.85
4 tubs


(240 capsules)

£5.75


each

£23.00
UK Delivery Only
BodySpec Ultimate Noni Extract Capsules each provide 250mg of 20:1 whole-fruit noni extract, equivalent to 5,000mg of fresh whole-fruit noni.
Noni is rich in Proxeroxine and Scopoletin as well as minerals, enzymes, antioxidants, vitamins, phytonutrients and bioflavanoids.
Noni has been traditionally used to promote a healthy immune system, for arthritis, as a detox and as a general health tonic.
Key Nutrient:
Noni (Morinda Citrifolia)
Form:
Whole-Fruit Extract in a Capsule
Equivalence:
Each capsule contains 250mg of 20:1 extract, equivalent to 5,000mg of whole-fruit noni
Quantity:
60 capsules
Recommended Use:
2 capsules per day. Can be taken with or without food.
Best Before Date:
End of January 2022
Suitable For:
Vegans, Vegetarians
Traditional Use:
Immune System, Arthritis, Detox, Tonic
Other Features:
Airtight foil seal under lid
Full Ingredients:
whole-fruit noni extract
maltodextrin
HPMC Size 0 Capsule
TrustPilot collects reviews from our customers and gives us a rating out of 5. You can click below to view our TrustPilot reviews.