Omega 3, 6 and 9 Capsules for Dogs
90 x 1,000mg Capsules
Balanced Formulation of Essential Fatty Acids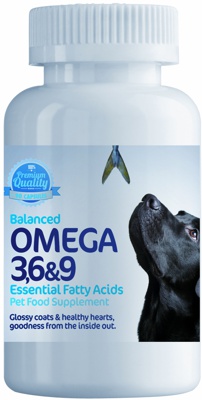 In Stock
Fast & Free UK Delivery
1,000mg
90 Capsules
Omega-3
Omega-6
Omega-9
Essential Fatty Acids
Balanced Formulation
Easy to Swallow
Snippable/Squeezable
Glossy Coat
Heart Health
Immune Health
Free UK Delivery
on all orders
Qty
Price
per Tub
Total
Price
Buy
1 tub


90 x 1,000mg

£11.95
£11.95
2 tubs


180 x 1,000mg

£10.95


each

£21.90
3 tubs


270 x 1,000mg

£9.95


each

£29.85
4 tubs


360 x 1,000mg

£8.95


each

£35.80
UK Delivery Only
A balanced formulation of three oils, fish, flaxseed and sunflower seed plus superior natural vitamin E as a natural preservative. Each 1,000mg capsule provides a balance of Omega-3 Omega-6 and Omega-9 essential fatty acids, vital to the health of your dog.
Omega 3,6,9 fatty acids help to give your pet healthy skin and a glossy coat, as well as helping to maintain a healthy heart, healthy joints and healthy immune system.
Nutrients per Capsule
Nutrient
Amount
Omega-3
270mg
Omega-6
200mg
Omega-9
100mg
Natural
Vitamin E
10mg
Recommended Daily Serving
Pet Type
Weight
Range
Daily
Amount
Servings
per Tub
Cats, Small Dogs
< 5Kg
1 capsule
90
Medium Dogs
5 - 20Kg
2 capsules
45
Large Dogs
20Kg+
3 capsules
30
Key Nutrients:
Per Capsule:
- Omega-3 : 270mg
- Omega-6 : 200mg
- Omega-9 : 100mg
plus Vitamin E : 10mg
Form:
Softgel capsules
Quantity:
90 capsules per tub
Recommended Use:
1 to 3 capsules per day*
(see serving size table above)

*For larger dogs mix capsules directly with their food. For cats, smaller dogs and fussy eaters... snip (or pierce) the end of the capsule and squeeze the contents into their food.

Best Before Date:
End of July 2023
Traditional Use:
Glossy Coat, Healthy Heart, Healthy Joints, Immune System
Full Ingredients:
Fish Oil (400mg*), Flaxseed Oil (300mg*), Sunflower Seed Oil (290mg*), Natural Vitamin E (10mg*), Capsule Shell (Gelatin, Glycerol, Water)

*per capsule

Cautions:
Food supplements should not be used as a substitute for a varied diet. If your pet has any medical conditions then please consult your vet before starting them on a course of food supplements. Keep out of the reach of children.
TrustPilot Independent Reviews for Pet Omega 3,6,9
TrustPilot collects reviews from our customers and gives us a rating out of 5. You can click below to view our TrustPilot reviews.
Q. How Will Pet Omega 3,6,9 Benefit My Pet ?
A. Pet Omega 3,6,9 is a balanced formulation of Omegas 3, 6 and 9 providing multiple health benefits for your dog and cat. It is especially beneficial for promoting a healthy heart, a healthy immune system, healthy joints and improving the condition of the skin and the shine of your pet's coat.
Q. My Dog Is a Fussy Eater, What If He/She Wont Swallow Capsules ?
A. For many dogs you can just mix the capsules in with their food. However if you dog is a fussy eater or if you try them with Pet Omega 3,6,9 capsules and they refuse to eat them then simply snip (or pierce) one end of the capsule with a pair of scissors and squeeze the oil directly onto their food (and mix it in). The capsules are soft to enable this to be done easily.
Finally, if your dog is medium (2 capsules per day) or large (3 capsules per day) then feel free to split the daily dose between meals.
Q. How Should I Feed Omega 369 Capsules To My Cat ?
We have never met a cat yet that is not a fussy eater! Our 1000mg capsules would be rather large for most cats. So we always recommend snipping (or piercing) the end of the capsules and squeezing the mixture of Omega 3, 6 and 9 oils into your cats food. The smell from the fish oil should attract them, but if they still turn their noses up then do not panic! They will probably return to their food in a short while. If you still have problems then try adding just half of the omega 369 oil from one capsule to their food and the other half to their next fresh food later in the day.