Beta Glucan 1.3/1.6-D, 60 x 400mg
Immune System Formula
with Vitamin C and Zinc
Beta Glucan derived from brewers yeast extract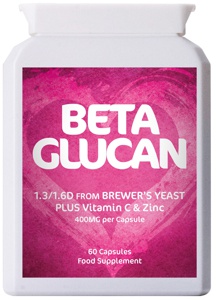 In Stock
Free UK Delivery
Suitable for Vegetarians and Vegans
Halal, Kosher
Buy Beta Glucan Capsules (UK Delivery)
1 tub


(60 capsules)

for

£19.95

£14.95


(25% Discount)

2 tubs


(120 capsules)

for
£27.90
£13.95 each
30% Discount)
3 tubs


(180 capsules)

for
£38.91
£12.97 each
(35% Discount)
4 tubs


(240 capsules)

for
£47.88
£11.97 each
(40% Discount)
Buy Beta Glucan Capsules (EU Delivery)
4 tubs


(240 capsules)

for
£55.88
£13.97 each
(30% Discount)
Each capsule provides:

- 400mg of Beta Glucan 1.3/1.6-D
- 40mg of Vitamin C (50% NRV)
- 5mg of Zinc (50% NRV)

60 capsules per tub.

Our Beta Glucan is derived from brewers yeast extract

.
Manufactured within the UK to GMP standards.
Recommended use, 1 or 2 capsules per day.
Suitable for: Vegetarians, Vegans, Halal, Kosher.
Traditional use:

Immune System

Save up to 40% on the RRP of £19.95.


- 1 packet : 25% discount
- 2 packets: 30% discount
- 3 packets: 35% discount
- 4 packets: 40% discount
plus Free UK Delivery on ALL orders
Mix and Match supplements to qualify for the full 40% discount.
plus...
Same or next day order processing.
Fast & Free UK delivery by Royal Mail 48hr.
30-day no quibble refund policy for your peace of mind!
TrustPilot collects reviews from our customers and gives us a rating out of 10. You can click below to view our TrustPilot reviews.
Each capsule contains:
Beta Glucan 1.3/1.6-D 75% activity - 533.33 mg
(providing 400mg of Beta Glucan 1.3/1.6-D)
Ascorbic Acid fine powder - 40.40mg
(providing 40mg of Vitamin C)
Zinc Gluconate - 38.46mg
(providing 5mg of Zinc)
Natural rice extract - 10mg
Natural rice concentrate - 7mg
Vegetarian Capsule Shell
(HPMC - HydroxyPropylMethylCellulose, Size 00, Clear)
Please take note of the following:
Do not exceed the recommended amount.
Keep out of the reach of children.
Consult your medical practitioner before taking this or any other food supplement if you are pregnant, breast-feeding or on medication.
This is a food supplement and should not be used as a substitute for a varied diet.
Not suitable for people who are taking Immunosuppressant medications (medicines that suppress the immune system) as beta glucans boost the immune system.
If in doubt consult your medical practitioner.